Below is a list of some of the activities in which Troop 624 participates.  This is not a comprehensive list, but it gives you an idea of some of our favorite activities!  Some of the items have links to further information on that activity — please click!
Summer camp at Sinoquipe: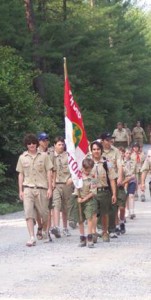 Troop 624's most highly attended activity, enjoying a terrific week at scout camp!  Scouts work on advancement, leadership, teamwork, skills, and badges while having a fun time with other troops at this scout camp in the Pennsylvania mountains.  Click here to learn more about this popular annual event.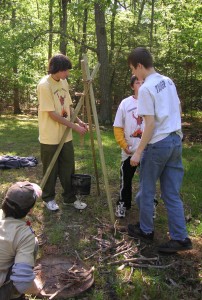 Projectoree:  A Chain Bridge District event held every spring at Camp Wilson in Lorton, Virginia.  Several different troops attend, enjoying competitive games between patrols and a chance to meet fellow scouts from neighboring troops.
2017 Projectoree Information – 28-30 April 2017
Klondike Derby:  The Klondike Derby
is a winter event held at Camp Highroad in Aldie, Virginia.  Many scout groups in the area compete in this event.  Scouts pull a sled through the snowy (if lucky) or muddy (not so lucky) terrain of the area, stopping at designated stations to earn points (gold nuggets) by demonstrating skill and knowledge of various scout related topics.  Lots of fun and a chance to compete against patrols from other troops.
Check out Klondike Derby 2016
Advancement Camp:  Every Spring.  Check out 2016 Advancement Camp
Mulch:  The annual mulch drive is troop 624's biggest fundraiser.  Each scout is given a territory in the Arlington/Falls Church area in which to distribute fliers advertising bags of high-quality hardwood mulch.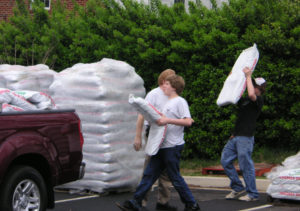 On a Saturday in March, the entire troop works together to deliver all the mulch.  This is a huge fundraiser for the troop and individual scouts can add funds to their scout accounts by selling mulch and working on delivery.   Customers love the quality and also appreciate the convenience of having the mulch delivered directly to their homes.
NEED MULCH?   Download the Troop 624 Order from here!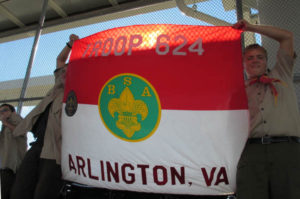 Scout Days at Nationals Park:      Fun for scouts and families at specially designated Scout Days  with the Washington Nationals baseball team!
Pancake Breakfasts:  A fundraiser at St. Ann church with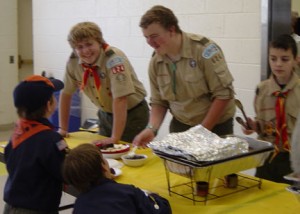 cub pack 624.   Scouts serve and help prepare a delicious pancake breakfast after the Sunday Masses.  Lots of fun meeting and talking with parishioners as well as other scouts, not to mention good food!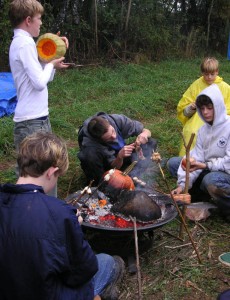 Camporee:  fall Camp Highroad in Aldie, Va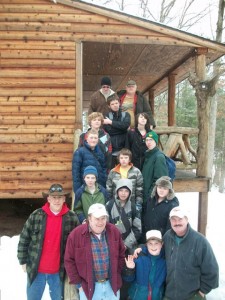 Winter camping at at Sinoquipe:  We enjoy our favorite scout camp in the winter months, staying warm at Kiersten Lodge and often inviting Webelos2 scouts to join us.   A great chance to visit Sinoquipe in the off season!
Wilderness survival campout: fall Romney, WV
Trail reconstruction:  summer Massanutten
High adventure (Philmont, Seabase, Northern Tier, etc) summer
Whitewater Rafting: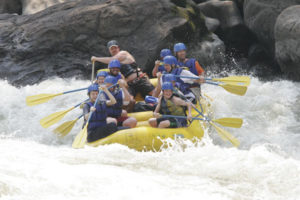 An exciting adventure on the Lower New River in West Virginia.  Our next Whitewater camping and rafting adventure will be in early fall 2012.
Canoe Trip:  Spring Romney, WV
Scouting for Food:  Scouting for Food is an annual Boy Scout led food drive covering the entire Washington, DC metropolitan area.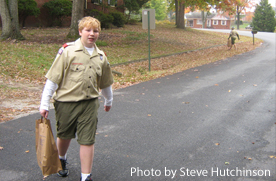 Troop 624 is one of the troops which distributes plastic bags to area homes to solicit donations of non-perishable food.  Scouts then return a week later to homes to pick up the food. Since the program launched in 1987, Scouts have collected millions of pounds of non-perishable food items to provide for people in need.  Collected items go to the Capital Area Food Bank.